Obi-Wan Finale - The Loop
Play Sound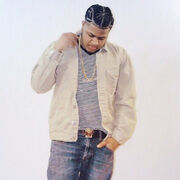 Jose R. Cuevas Most known as Dj Buches is an Artist, Producer, International D'J & Dominican Radio Host. Dj Buches is Born: April 14, 1999 (age 22 years), San Cristóbal Province, Dominican Republic He is a Celebrity Dj. His Genres is Rap/Hip-Hop & Electronic Guaracha. His popular songs are BoomBapBeat2021 & ScenaryFeelTheBeat2021 Son of Dominican Parent's. Music is his Passion as Being a Dee - Jay Dj Buches Discover His Talent Toward Public. At 11 Years Old Dj Buches Migrated to the United Stated of America in Search of a Better View's On the Music Industry By Completing All His Dreams & Becoming an Entrepreneur. On 2014 Dj Buches Became Highly Profesional Known by Producing Exclusive Beats Worldwide.
On August Of 2015, Dj Buches Began His Career Journey By Applying Full Focus On Being "DEE - JAY'' "PRODUCER" "RADIOS HOST" Applying Strong Dedication To Professionally Being Dj Buches. In 2021 Dj Buches Distributed His (Single/Album) On Apple Music, Spotify, Iheart, Deezer & All Other's Platforms "Boom Bap Beat", "Moon", "Hidden Type Beat", "Chill Vibes", "Scenary (Feel The Beat)" Dj Buches Genres is Rap/Hip-Hop.
As Covid 19 - Pandemic Was Arrived Dj Buches Dedicated Much Time Learning The Art of Sound & Music By Producing Beats (R&B) Worldwide Having the Support Of All Latinos From All Around The Country's Especially From Colombia, Venezuela, Argentina, Costa Rica, Peru, Dominican Republic, Puerto Rico, Mexico, United Stated. At The Age of 19th Dj Buches Starter Working Radios in NYC Suprema NY 90.4 Fm Alongside Mentoring and Practicing at Family & Friend Gatherings or Anywhere Possible. As Well as Making Mixes & Producing Them Onto The Online Audio Distribution Platform & Music Sharing Website, His Family Support & Public is The Key To His Success.
Now Days Dj Buches Thanks Himself For The Effort Of Never Quitting By Gaining Experience & Thanks to Those Experience Dj Buches is International By Applying His Art On Any Type Of Public In The Night Club Entertainment Mr. Yo soy La Rumba Also Known as Mr. King of Electronic Guaracha of 2K21.